 Advance your defence game
Custom template design in Word, PowerPoint or Indesign formats
Simplifying complexity, amplifying impact
In the competitive world of defence tenders, you need every advantage you can get. Quad charts bridge the gap between technical and non-technical stakeholders. They allow technical details to be presented alongside high-level information, ensuring they're an accessible tool for both experts and decision-makers. To make the most of your quad chart, it needs to be as compelling as it is informative.
What are defence quad charts?
Defence quad charts are an industry staple. These concise visual documents distil complex information about your defence capabilities into a format that is easy to understand. They're like a snapshot of your strengths, designed to impress and inform. A sister product to the more detailed capability statement, quad charts provide the opportunity to capture the attention of a potential client by highlighting all your best features in one A4 document.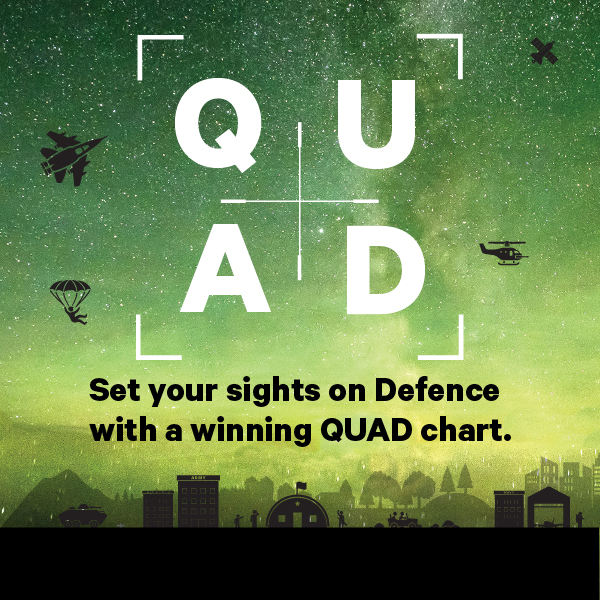 Impactful content: Quad charts need to pack a punch in a very small space – usually an A4 document. Our professional writers combine plain language principles, active voice and our 8-layer writing methodology to ensure your content is tight but powerful.
Visual excellence: Our dedicated production team combines content and visual aesthetics to create defence quad charts that not only convey your message but also make a lasting visual impression.
Tailored to your capability: Every client is unique, and so are their defence capabilities. We work closely with you to gather the right information and tailor the content to highlight what sets your organisation apart.
Strategic consultation: Differentiators are a critical part of a quad chart. Our strategic consultation will draw out the most crucial information required to develop a competitive quad chart. From branding, theme and messaging, our team knows how to craft a winning pitch.
Get Defence ready package
Defence quad chart
Best-practice defence quad chart template design

1 x double-sided A4 

Content development and optimisation

Multiple formats (PDF, image, editable source files)

Offer ends 30 November 2023
Consultation
We start with strategy session to understand your objectives and gather the essential details about your defence capabilities.
Content development
Our team takes the technical information and transforms it into concise, impactful content that resonates with your target audience and aligns with industry best-practice.
Design and layout
We combine our content with visually appealing design elements and skilful formatting to ensure the final product is both informative and eye-catching.
Review and refine
We collaborate with you to ensure that the final product meets your expectations and maintains accuracy.
Why choose us?
Professional expertise
Aurora Marketing has deep roots in the defence sector. Our team of professional writers, marketers, project managers and production specialists understand the landscape of defence and we can help you make your mark in this exciting space.
Deep understanding of defence
Our knowledge of the defence industry means the terminology, requirements and nuances specific to defence contracting are not a barrier. Instead, we can guide you through the practical uses and standard expectations for your quad chart.
Customised Solutions
One size doesn't fit all. We customise our services to align with your unique strengths and goals, producing defence quad charts that reflect your organisation's identity.

Aurora Marketing Quad Chart
Advance your defence game
Get in touch
We're in Brisbane, Sydney, Melbourne, Adelaide, Perth and Canberra.