As part of our continued commitment to pull back the veil on the tender evaluation process, we recently completed another much-anticipated round of our Behind Closed Doors reporting.
With the goal of providing bidders with insight into the evaluation process and how they can improve their submissions most meaningfully, the results will help tenderers confidently enhance their approach to tenders – and increase their win rate.
The value offered by tender evaluator insight
We often talk about going beyond compliance in a tender submission. This alludes to the simple truth that you need to do more than just fill out the returnable schedule to win a bid. With tender rules being notoriously rigid though, this is easier said than done – and not just for the inexperienced bidder. In our 20+ years of professional tender writing, we have had a countless number of clients (both green and highly experienced) express frustration at the hidden nuances of the evaluation process.
So, what does it mean to go beyond compliance? How can you stand out from your competitors when you are all working to the same criteria? Importantly, how do you know if you are using your time and effort on the most valuable parts of the tender?
To answer these questions and find out exactly what tender evaluators are actually looking for, we worked with a group of key industry experts to conduct our latest round of data collection and analysis.
By going directly to the source, we received an undiluted overview of what evaluators believe bidders are doing well, where they most commonly fail and how they can outbid the competition.
A snapshot of the results
A tender is often a be-all and end-all marketing document. It is the tenderers only opportunity to sell their solution and secure the project (and revenue) they are chasing. It should always be treated like a must-win competition. Unfortunately, what we see time and time again is that bidders aim for compliance with 'good enough' becoming a mantra for overworked and under motivated bid teams.
It is clear that very few bidders really understand what is required to bring together a submission that truly impresses. Behind Closed Doors gives us an opportunity to unlearn falsehoods and redefine what it means to write a brilliant submission.
Price
The first thing that became clear in this round of data analysis, is that price remains a critical component of any bid. With 20% of evaluators declaring it the most important factor in the decision-making process, no one can deny that pricing is a major contributor to bid success. But price alone isn't enough to secure the win – Detailed technical responses and methodology statements also ranked highly. This reiterates what we have seen in previous rounds of Behind Closed Doors: Pricing that reflects value, well developed content and a solution that inspires confidence are the top three ingredients in the formula for winning tenders.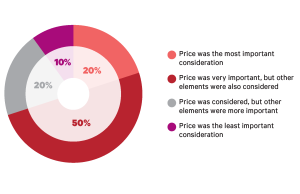 Written responses
Despite some scepticism, it is also evident that evaluators really do care about the writing and presentation of a tender. Having a professionally written tender that has been formatted for clarity and readability is a big win with the evaluators.
60% of respondents stated that formatting and presentation has at least some impact, while 20% went as far as saying it has significant impact on tender outcomes. Additionally, having a well written bid was overwhelmingly important with a whopping 90% of evaluators considering it to be an important deciding factor.
But that wasn't the only takeaway for writers – evaluators also want concise bids that only include pertinent information. If you have a rapid-fire approach to attachments, the message from 80% of our respondents is loud and clear: Only include what is relevant and pertinent to the current tender. The addition of unrelated documents like brochures and capability statements was a definite source of irritation.
The evaluation process
One reason incisive tenders may be preferred is that evaluators often assess a bid in its entirety. While there is a school of thought that each section of a tender is reviewed and assessed by a specialist in the relevant field, Behind Closed Doors reveals that this is false.
Evaluation panels most often consist of 3 to 7 members with varied backgrounds. And while 50% of the time these evaluators only reviewed an allocated section, the remaining 50% of the time evaluators reviewed the whole submission. It is therefore incredibly important that a bid is not only easy to follow but succinct so as to reduce the burden on evaluators. By making their job easier, you also make your submission more appealling.
The top 5 factors for competitive bids
To achieve a persuasive tender that goes beyond just meeting compliance, evaluators provided insight into what they expect to see from competitive bidders. These were their top 5 factors:
Confidence that the performance criteria will be achieved
Confidence that the budget will be achieved
Confidence that the key milestones will be achieved
Demonstrated understanding of the project
Proven technical capability.
Client relations
Another major deciding factor which cannot be overlooked is the relationship with the client. While it was agreed that it isn't necessary to have previously worked with the client in order to win a bid, it is crucial that bidders take the time to understand their values and the desired outcomes for the project.
At a minimum, evaluators expect that bidders will have preliminary discussions with them about the project. In contrast to this, only 40% of respondents said that it was very common for this to actually take place. This gap in 'expectations vs reality' is the perfect opportunity for bidders to take advantage of and an easy way to gain value and get ahead of their competitors.
The expectation for communication doesn't stop there. It is important that bidders have open dialogue with the client throughout the pursuit and afterward too – regardless of the outcome. There should be no hesitation about asking questions and clarifying any aspect of the RFI that isn't crystal clear (through agreed channels).
Rather than worrying about showing weakness or giving away their approach to competitors, evaluators want bidders to ask more questions to ensure they can provide thorough tender responses. Incomplete submissions was one of the most common failings noted by evaluators.
The same open questioning should also be conducted at debrief sessions. Evaluators encouraged bidders to take advantage of the opportunity to ask questions about their performance so they can provide constructive feedback. They were clearly keen to help bidders improve and expressed the intention to make debrief sessions as valuable as possible.
How was the research conducted?
To extract this juicy data, we followed a similar strategy to our previous Behind Closed Doors research. We approached a range of key industry experts in Australia and New Zealand who currently act as tender evaluators and invited them to participate. The data was then collected via a combination of detailed surveys and in-depth interviews.
Asking each evaluator to focus their responses solely on projects from the last two years, we were thrilled with the breadth of the results. The data spans a huge range of tenders including:
• Private, Federal, State and Local Government projects
• Light rail, passenger rail and freight rail
• Infrastructure, rolling stock, signalling, maintenance and operations
• Projects ranging in value from $1M to $1B.
Historically, we have focused questioning around the formal submission. To further expand our understanding, our most recent version covers a broader scope including the all-important pre-submission and post-submission phases. We also asked about the evaluator perception of bidder behaviours – both positive and negative.
The results reinforced that bidding is not for the faint-hearted: you must be willing to give it everything you've got to stand a chance of coming out on top.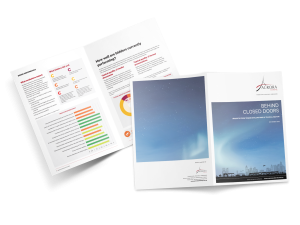 Get your free copy of the full report?
To learn more about these insights and find out what else our latest round of research uncovered, download your free copy of the full report here. With 36 pages full of insights and advice for how you can improve your tender results, it's a must have resource for every bidder.
To work with our team of professional tender writers on your next bid, contact us today. We provide obligation free consultations that focus on tailoring a solution to meet your needs and budget.