Every bidder has their own tender process but only some recognise that refining and improving that process is a crucial and on-going exercise. Here is a fact you may not be aware of – a compliant tender answer usually scores only 4 out of 10.
To elevate your submission and improve your chances of winning, you need to create more potent and comprehensive content than a basic compliant tender. Equally, it only takes one competitor giving it more than the bare minimum for them to come out on top in this competitive space. In short, compliance simply isn't enough.
At the heart of this issue though, is the approach that your team takes to your tender process. You can have the best strategists, writers and subject matter experts in the industry but without the right attitude, you can still get underwhelming results. In order to be truly competitive, you need something more. Something we call 'a bid-winning mindset'.
The bid-winning mindset is the driving force that will take your proposal from business as usual to compelling innovation, and it all starts with one simple premise: Bids are not a test, they are a competition. Bid teams need to understand and embrace the fact that in the world of tenders, there is only one shot to win. It will not do well to rank above your peers, there is no second-place trophy, and there are no participation awards. If you are not winning, you are losing. It is not a new idea but it is an important one that bidders sometimes forget in the depths of a submission.
When the clock is ticking and you are scrambling to gather information from your subject matter experts, pulling together an answer at all can seem miraculous. To beat the odds though, you need to do more than meet expectations, you need to exceed them. This can only occur when you build a team that is strategically aligned and focused on winning, at every stage of the project. It comes down to fostering an attitude and culture that creates engagement and encourages each individual to continually push for excellence.
To really cement the idea that bids are a competition and not just a list of questions to be answered, there are a number of values you need to instil in your team.
The tender starts before the RFI is released
The tender process is like a battlefield; you need to come prepared. Training and development is essential to building a winning attitude and a skilled group of collaborators. This goes beyond improving writing ability alone and extends to industry knowledge, networking and internal relationship management.
When you have team members who truly understand your business and it's unique offering, support and respect each other, and have broad industry knowledge and connections, you have the backbone you need to support the high stakes pressure that comes with tendering.
It is equally important to lay groundwork for each specific tender submission as early as possible. You should always aim to build your client engagement and workshop your bid strategy before the tender documents have been released. This gives you extra time to discuss, outline and plan your solution, ensuring it is as well developed as possible at kick off. This is one of the most commonly skipped steps in the tendering process and results in a mediocre submission.
Having a well-prepared bid team doesn't only mean you can elevate your pitch; it also helps you produce a compelling tender without the need for all nighters and weekends in the office. If you have your timeline planned out well in advance, you can ensure that the project runs smoothly and allows for a thorough review process well ahead of the submission due date. Music to the ears of any bid writer!
You should never accept compliant bid responses
Something we see all too often when bidding, is the failure to recognise that 'good enough' is never good enough. If you are aiming to provide a compliant answer, you aren't going far enough – you need to constantly push for the best. When evaluators assess a tender submission, each answer is scored and then collated to create an overall ranking for each bidder. As we know, a compliant answer will usually only score you 4 out of 10; a dismal result by most standards. With every answer you provide that is merely compliant, you therefore give your competitors the chance to tip the scales.
To truly maximise your chance of success, you need to demonstrate your capability at every opportunity you are given. Every answer needs to go beyond expectation and offer insight or innovation that exceeds the status quo. You need to ask yourself how you can take your answer and build it out, adding value and mitigating risks as you go.
To do this you need to really understand the client's objectives. With each evaluation criteria there is an underlying pain point for your client. When you drill down and address the client's wants, needs and concerns, you can begin to transform your answers into genuinely valuable responses that outshine your competition. Even seemingly less significant criteria can provide you with the chance to outperform your competitors. When you go beyond a flick and tick approach where others might not, you differentiate yourself and maximise your chance to increase your overall score.
Question your way to brilliance
To promote and foster your team to openly brainstorm and discuss ways that you can get ahead of the competition, "What else can we do?" should become your mantra. At every step of the tender process and in every review, you need to be asking what else the client may want to know, what keeps them up at night, and how you can alleviate those pain points. When you identify the crux of what your client is trying to achieve and what potential roadblocks may arise, you can begin to craft a refined pitch that stands out from the pack. This should include addition of high value, but also the removal of anything that isn't adding value.
Our Behind Closed Doors research revealed that many evaluators, to the surprise of many, do tend to read the entire submission. While this means that you can be confident your bid will be reviewed thoroughly, it also means you need to be mindful of what you include. Packing a submission with too much unnecessary filler information will dilute your message and waste your time and the evaluator's.
This process of constant questioning should also extend as far as your own offering. Consider how you can improve it, check for weak spots in your solution and mitigate the risks for your client wherever possible. Discuss what your offering really brings to the table for your client and how comprehensively it achieves their objectives. Can you make it a better fit? Can you add anything that exceeds what the client is asking for, providing advantages they may not have identified themselves while remaining within scope? What else can you do? When you answer these questions, you get the edge on your competitors and you better comprehend your own business differentiators.
This is a crucial step in refining your tender process and creating a bid that stands out. Keep questioning and workshopping until you find what you offer that your competitors can't replicate and bring it to the attention of the evaluators.
This relentless pushing and questioning are what create a truly compelling tender.
Build your tender process around your client
While many approach a tender ready to sell themselves and their business, smart bidders understand that a tender is not about them, it is about their client. Having a client-centred attitude ensures that your responses will stand out for all the right reasons by demonstrating that you have a rich understanding of the project requirements and intended outcomes. In doing so, you also show that you are committed to building a mutually respectful relationship with the client by recognising and advocating their needs and wants and showing this clearly in your written submission.
Writing with the client as your focus can be difficult to adjust to as many of us want to highlight our own experience and expertise, but when done correctly, this style gives you a winning advantage. As much as your team may naturally want to write about your business, it makes sense that your client wants to focus on their own.
Give your client answers that are tailored specifically to them, that speak to their experience rather than your own, and that mention their business goals and how you can help them achieve them. You want to be seen as a partner – A team that can integrate into their business seamlessly rather than a separate entity with its own conflicting objectives.
Changing your tender process and shifting an existing culture within a team can be challenging but by embracing these values, you will quickly see a difference in the mindset of your team. Where you once had a group of individuals chasing subject matter experts and piecing together answers that aimed for compliance, you will have a motivated, driven team that is aligned in their pursuit of bid brilliance.
To get help with fostering a bid winning mindset and improving your tender process, contact our team of tender specialists today. We provide obligation free consultations that focus on tailoring a solution to meet your needs and budget.
Download the bid mindset checklist
While tenders shouldn't be a tick and flick process, this handy checklist is!
Use it to find out whether your team has the attitude it takes to win.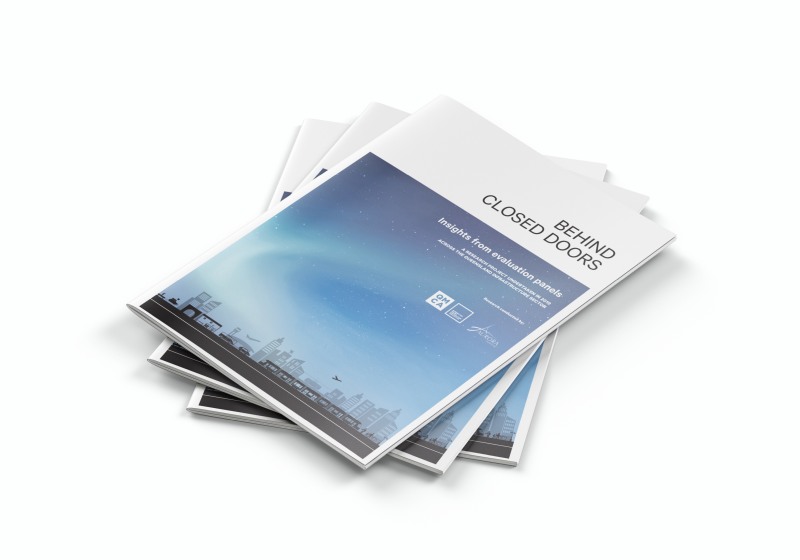 Behind closed doors
Our Behind Closed Doors report summarises our findings from a formal research study we undertook in 2019 with evaluators of major infrastructure projects. We're always conducting some form of research, and are currently undertaking another Behind Closed Doors research project focused on the rail sector in Australia and New Zealand. It's due in December 2022. Stay tuned.