The success of your tender not only comes down to your solution, but to the capability of your team to tell your story. In 2019, we conducted a major research program with evaluators from major projects across Australia. The purpose of our Behind Closed Doors research was to collect confidential, non-identified and non-specific feedback from evaluators that would provide open, honest and helpful direction to our team of tender experts, and by extension our clients. What we learned is that bidders are most often let down by simple – and avoidable – failings. The biggest of these was that written responses lacked detail or were unclear. This is where a specialist bid team earns their keep.
While subject matter experts are invaluable for the technical knowledge they bring to a bid, the ability to craft compelling and comprehensive responses is a different skillset entirely. To improve your tender process and help your team develop the skills necessary to produce bids that consistently exceed compliance, here are the top 8 bid writing tips from our specialist tender writing team.
Format your answers logically and follow the client's structure
Because you can't be sure of the background of individuals evaluating your submission, it is important to ensure your response engages everyone on the evaluation panel. Keep responses as clear, accessible and easily understood as possible. Consider the following:
Embrace the headers and language the client uses to avoid confusion
Make sure the information the client needs is easily accessible
Prioritise what is important to the client avoiding unnecessary filler
Arrange your document logically using headers, sections, page numbers and tables of contents
Number pages and sections consecutively for clarity and continuity
Clearly highlight important messaging and benefits through formatting and callouts
Remove anything that isn't adding value or answering a question directly.
Strategic Value
After reviewing your relationship and credibility, you need to assess whether the project aligns with your business goals and strategy. Sometimes an opportunity can seem appealing, but on reflection is not aligned to your company's direction. In that case, you'll need to weigh up any short-term sugar rush from the project, versus long-term distraction from where you really want to go. To make sure you are engaging in the most strategically valuable bids for your organisation, start your tender process by asking yourself these questions:
Is this the right strategic direction for you?
Would winning this contract further your goals?
Is this client likely to be a strong partner in future?
Do the benefits outweigh the risks?
Do you have the capability to deliver this contract?
If you don't have a formal strategic plan or goal for your business, this is the time to develop one. Getting clear on where you see your business going is crucial to ensuring success in every aspect of your business, not just bidding.
Respond to questions completely
You may be surprised to learn that many bidders skip questions or provide minimal responses when they are struggling to meet compliance or feel their compliance is obvious. Unfortunately, this creates holes in your response and decreases your score for the section. It is essential to provide comprehensive responses to every question.
Even when you feel you can't provide an outstanding response due to a weakness in your offering, a low score is better than a zero. If you are in a position where you do comply and feel it is obvious, remember that what is obvious to you may not be clear to an evaluator.
It is better to clearly demonstrate your compliance than to risk a low score because of a lack of detail.
Bidders should take this approach to elevate responses and ensure they are as comprehensive as possible:
Answer every question – do not miss a single opportunity to showcase your capability
Ensure that your answer covers all the elements and sub-elements of each question
Make your compliance obvious to the evaluators – spell it out for them
Every question is included for a reason – make sure you understand and cover off that reason in your response
Meeting the criteria is the minimum. Aim to exceed it at every opportunity.
Speak the client's language
When competing on a tender, you are trying to win the opportunity to work with and support another organisation in achieving their project objectives. The best way to establish this is to demonstrate that you can support their team and work cohesively in a partnership relationship.
To demonstrate your alignment to your client follow these writing guidelines:
Adapt your client's language, terminology and tone in your submission
Explicitly reference client's project objectives and show how you'll support them to achieve these outcomes
Minimise jargon and technical language, unless it is the client's.
Provide evidence
Providing evidence is one of the key components of bidding; after all, past behavior is the best predictor of future behavior, and the same is true of success. By demonstrating your track record and capability to successfully support the client in their pursuit, you build trust and gain their confidence.
To effectively do this, you need to provide adequate relevant evidence of past successes and current expertise. Follow these rules to successfully showcase your capability:
Incorporate evidence wherever relevant – facts, figures, dates, amounts – anything with a number is best!
Don't just say that you will comply with a requirement – say how you will achieve it
Avoid generalisations and promises that can also be made by your competitors
Use qualitative and quantitative data wherever appropriate to add credibility. For example:

How much time and/or money is saved?
How many customer touchpoints are included in our program?
How much will productivity be increased by?
How many jobs will be created?
Write with confidence
This can take some getting used to for any tender writer, but the advantage is that you are asserting your capability, affirming your wish to partner cohesively with the client, and providing a more engaging vision overall.
Write in the present tense unless it is necessary to reference things in the past or future. For example:

"We will build a marine facility…"
"Our transition plan includes…"
"We cross-train our labour-force…"

Avoid non-committal language such as:

"Typically", "usually", "on a good day", "we hope"
"If things go as planned…"
"Should we be successful…"
Unnecessary auxiliaries and conditions that make your writing sound irresolute. Save words like would, could, should, may, and might, for times when the uncertainty is valid.
Talk benefits, not just features
When you have spent years building your skills and knowledge in a particular industry, you've become an expert within your organisation, and tirelessly workshopped a strategy for your tender, you can start to take for granted the deep understanding you have of your offering and its advantages. Bringing these benefits to the fore when writing your bid is incredibly important because not all evaluators have the same background and understanding as your bid team and experts.
As well as using language that is inclusive and providing clear evidence of capability, you need to take it one step further and describe the advantages of your approach in plain terms. To ensure your response provides clear benefits rather than just describing the feature itself, bidders should include information that covers the following:
Why are we describing this particular widget/feature/thing/process?
Why is it better than an alternative widget/feature/thing/process?
What are the outcomes of using this feature?
What difference does it make to the client?
Sell your solution
While a tender should always be about the client, appealing to their needs and objectives, and complementing their business, it is also your opportunity to sell your solution. This doesn't mean self-congratulatory hyperbole, but it is appropriate to take pride in your successes and highlight your achievements. Tenders are a competition and there will be only one winner, so take the opportunity to impress.
To do this tastefully, you should:
Share the legacy of your business in a way that relates to the client
Be professional and intelligent in your communication style, not loud or boastful
Keep your claims factual and avoid vague or fanciful statements
Include details which positively differentiate you from your competitors, for example:

"We have more experience in this field than anyone else…"
"We are the largest supplier in Australia…"
"Our facility is the most technically advanced"
By applying these writing tips, you give the evaluators a clear, detailed understanding of your offering and its benefits. You remove unnecessary filler, further refining your submission, and you produce a truly compelling pitch that engages your audience and wins their hearts and minds.
To work with our team of professional tender writers on your next bid, contact us today. We provide obligation free consultations that focus on tailoring a solution to meet your needs and budget.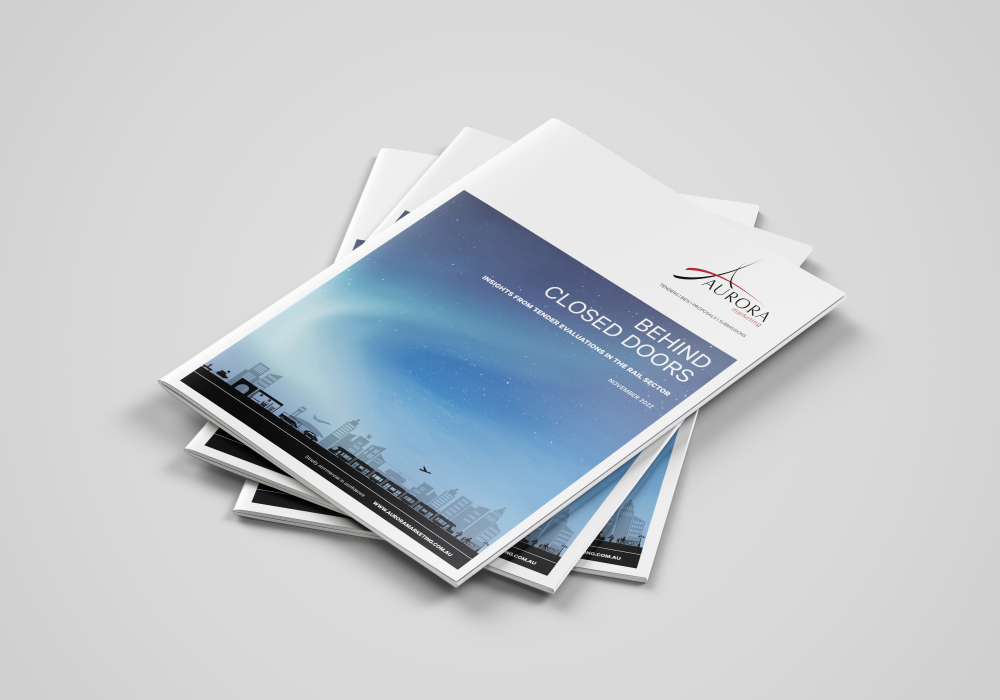 Behind closed doors
Our 2022 Behind Closed Doors report provides insights into what it takes to get that bid-winning edge. We invited evaluators of rail sector projects from across Australia and New Zealand to share their feedback on recent procurement experience. We are confident that the research findings can be used to improve your next bid.